Cage of Souls by Adrian Tchaikovsky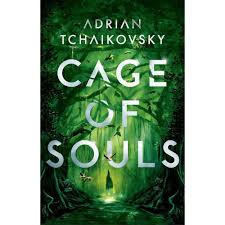 The Blurb
The sun is bloated, diseased, dying perhaps. Beneath its baneful light, Shadrapar, last of all cities, harbours fewer than 100,000 human souls. Built on the ruins of countless civilisations, Shadrapar is a museum, a midden, an asylum, a prison on a world that is ever more alien to humanity.
Bearing witness to the desperate struggle for existence between life old and new is Stefan Advani: rebel, outlaw, prisoner, survivor. This is his testament, an account of the journey that took him into the blazing desolation of the western deserts; that transported him east down the river and imprisoned him in the verdant hell of the jungle's darkest heart; that led him deep into the labyrinths and caverns of the underworld. He will meet with monsters, madman, mutants.
The question is, which one of them will inherit this Earth?
Intro
The book is set up as the memoirs of Stephan Advani a self proclaimed cowardly social historian. Stephan styles himself as an unlikely hero and is self deprecating and cognisant of his own flaws enough not to be irritating.
What I loved
Worldbuilding Worldbuilding Worldbuilding!
Tchaikovsky is hands down one of the most creative and interesting SFF writers out there - I have read the majority of his books and each time I am blown away by the worlds he builds and the concepts he introduces. This time it is humanity's far far far future and civilization has taken a bit of a dive, I got the impression that the society that survived was living on the scraps of what the previous generations left behind. The majority of the book takes place in a jungle like swamp and there are all sorts of beasties and environmental hazards that make it very immersive.
Characters
There were a whole range of characters packed between the pages (or as I listened to this one, packed between the syllables). Many of them seemed to have interesting backstories or displayed tantalising talents, but I didn't get to see these things play out. The story is told first person, so of course one can't expect insight into each secondary character, however it seemed like Tchaikovsky included them as part of the background tapestry as opposed to making them important to the plot. I just wish I could have known more about a few of them!
What fell flat
Plot
I started off really interested in what was happening to Stephan, however as time passed I found myself wondering what the point of the story was - where was it going? It turns out...it wasn't really going anywhere. I won't give away any spoilers, but there was a lot of meandering through Stephan's life, and though his early history did tie into the story, it wasn't THAT relevant overall.
The Grand Finale
The ending involved a pretty momentous event which unfortunately had almost no foreshadowing and as a result, I didn't care about it. It fell completely flat.
Conclusion
This book was beautifully written (like most of Tchaikovsky's work) - I really felt like I was in the jungle prison. It was packed with interesting ideas and cool situations HOWEVER, nothing really stuck for me - there was no hook to the story. If you want a reasonably laid back, stand alone book with excellent prose - this is one for you. I probably won't re-read but I did enjoy it.